Our Veterinarians
The Eagle Animal Clinic team of skilled veterinarians welcomes you to our practice, proudly serving the Eagle area. At Eagle Animal Clinic, it is our daily privilege to provide quality vet care to your cherished pet, with compassion and competence. We hope to ensure a positive impact on our patients, pet owners and the local community.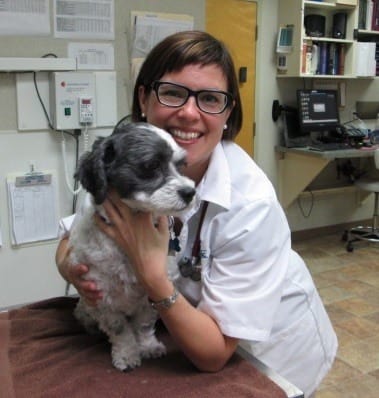 Dr. Kathi Berman 
Dr. Kathi joined the Eagle Animal Clinic family in August of 2013.
She was born in McCall and spent her grade school years in Boise. She attended junior high through college on the East Coast. In 2003, Dr. Kathi graduated from the University of Illinois, College of Veterinary Medicine with Highest Honors. She resided and practiced veterinary medicine in Chicago for 10 years before joining Eagle Animal Clinic.
Dr. Kathi absolutely loves what she does and values the close relationships she has developed with clients and patients alike. She has a special interest in veterinary dentistry, surgery and internal medicine. Dr. Kathi shares her home with Mark, their three year old son, Leo, Brenda, the greyhound, and two cats named Spam and Otis.
In her free time Dr. Kathi enjoys knitting, baking, scuba diving and gardening. She loves to spend as much time she can at her family ranch in Long Valley.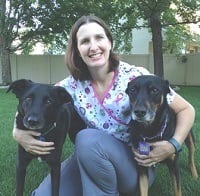 Dr. Amber Craft
Dr. Amber Upchurch Craft joined Eagle Animal Clinic at the end of summer, 2015. She was born and raised in Boise, where she has worked in veterinary hospitals since the age of 15. She graduated from Boise High School, where she was active in the "BIG RED" marching band, playing tenor saxophone. After high school, she went to the University of Idaho (Go Vandals!) to get a B.S. in animal science / veterinary science. She also played tenor saxophone for the Vandal Marching Band, worked as a resident adviser, and worked as a veterinary assistant at a local hospital in Moscow.
Following her time in Moscow, Dr. Amber attended Ross University School of Veterinary Medicine on the island of St. Kitts, and finishing her clinical training at Oklahoma State University. After earning her DVM, she returned to the Treasure Valley, where she has practiced veterinary medicine for the last 7 years. Dr. Amber has a special interest in preventative medicine, and hopes to build strong relationships with her clients and patients.
Dr. Amber is married to Andy and has two beautiful daughters, Lillian and Charlotte. They are all owned by two cats (Molly and Little Bit) and two dogs (Trillian and Koba). In Dr. Amber's time-off she enjoys water and snow skiing, camping, fishing and spending time with her family.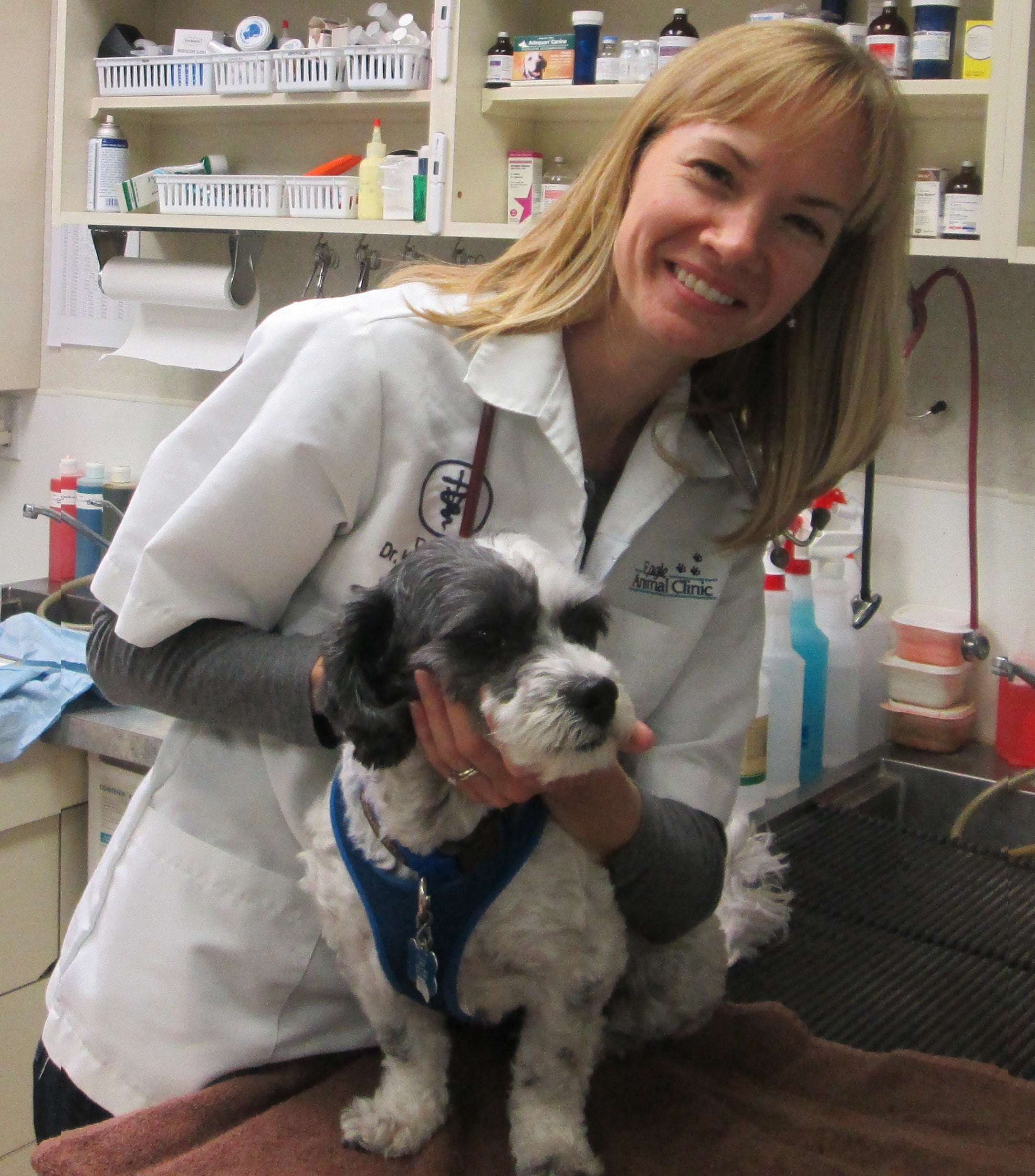 Dr. Katie Wright
Dr. Katie Wright is the Managing Veterinarian here at Eagle Animal Clinic. She joined the staff as a part time Associate Veterinarian in 2007, and was promoted to her current position in 2009. Dr. Katie, a graduate of Washington State's School of Veterinarian Medicine, has been in small animal practice (cats and dogs) since 1998. She strongly believes in developing lasting relationships with clients and their pets through open and direct communication. Dr. Katie is always striving to find workable solutions for both pets and their owners.
Dr. Katie, an Eagle local, has always called Idaho her home with her only length of time away spent attending college. She currently resides here in the Eagle area with her husband, Mike, her son, Zach, daughter, Lucy; two Labrador Retrievers, Zep and Diesel; four cats, four mules, and one horse. Outside of work, Dr. Katie is an avid outdoor lover who enjoys horseback riding and camping, and experiencing all that our local area has to offer. She also looks forward to those few precious minutes when she can settle down and enjoy the company of a good book.